Looking for Loldle? Loldle is a game based on the famous word game Wordle, but adapted to guess a League of Legends champion from a database. It is an innovative game also called League Wordle. We will explain what Loldle consists of, how to download it, and why you should play Loldle Online.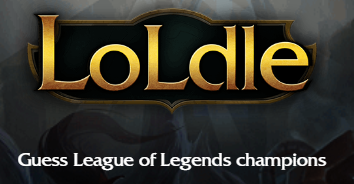 In this game, you must solve a mystery League champion in a daily guess League of Legends wordle champions with clues, random quotes, spell icons. It's different from Wordle, but if you love League of Legends, we think you will enjoy this online game!
Play Loldle Game
Loldle is a daily game that allows one play per day in various modes such as today's challenge, quote, ability, or splash mode. It is a guessing game where players are given clues to identify a League of Legends champion, and the game's difficulty is higher compared to the original wordle. We will guide you through how to play Loldle with tips and tricks to enhance your skills.
Rules
Guess the League of Legends player in as few tries as possible.
The solution player will be a current fantasy champion.
After each guess, the color of the tiles will change depending on how close your guess was to the champion.
In any column, green represents a match
In the division column, yellow indicates partial match. With arrows, it also indicates if the answer property is above or below your guess..
Red indicates there is no overlap between your guess and the property.
Loldle don´t allows players to play a new game again after finishing the day's game. If you want to play Unlimited League of Legends wordle, we will explain how to do it if you continue reading.
Play different Loldle modes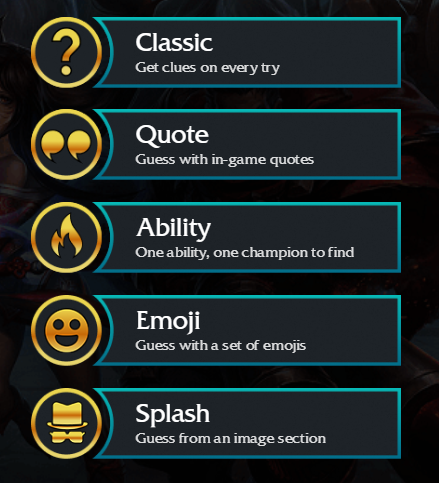 Classic mode:
Guess today's League of Legends champion.
In classic mode, simply type in the name of a champion and it will reveal its properties.The color of the tiles will change to show how close your guess was to the champion to find.
Quote mode:
In Quote mode, try to guess which champion says the sentence during a game or during champion select in the least number of tries.You can listen to it once you guessed correctly!
Ability mode:
In Ability mode, try to guess which champion has the spell whose icon is the one displayed in the least number of tries.
Splash mode:
In Splash mode, try to guess which champion has the whole splash art as a skin image in the least number of tries.It can be cut from the original one or any random skin.You can see it full once you guessed it correctly!
Emoji mode:
Try to guess which champion corresponds to the sequence of emojis. Each guess reveals a new one! After winning, you can see all the emojis corresponding to the champion.
Loldle link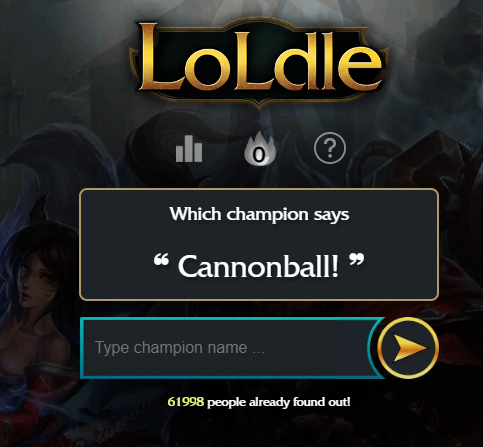 Every day, guess a different champion from the game League of Legends. You can play here:
Loldle solutions
If you are looking for loldle today solution, you can find all answers here:
F.A.Q. (Frequently Asked Questions)
How do I play Loldle?
To play Loldle, you need to guess the name of a League of Legends champion based on clues such as quotes, spell icons, and other hints. Each day, there is a new champion to guess, and the game can be played in different modes, including today's challenge mode, quote mode, ability mode, or splash mode.
Is Loldle a free game?
Yes, Loldle is a free game that can be played online. There is no need to download any software or pay any fees to play the game.
How can I improve my Loldle skills?
To improve your Loldle skills, it's important to pay attention to the clues given and use your knowledge of League of Legends champions to make educated guesses. You can also play regularly to practice and improve your speed.
Can I play Loldle on my mobile device?
Yes, Loldle can be played on mobile devices such as smartphones and tablets. Simply open the game in your mobile web browser to play.